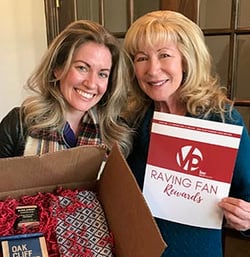 The Process is Simple...
When you refer a client or review Van Poole Properties Group you'll be eligible to receive our raving fan rewards box! Each box is curated with gifts, treats, and selected home goods to show our love and appreciation!
Step 1. Send us the information for someone you know that needs real estate help.
Step 2. Our team will add you to our growing list of Raving Fans.
Step 3. For the next year, you will receive quarterly Raving Fans boxes. It's that easy!
Receive a full year of rewards when you send us a referral by completing the form below or calling us at 214-267-9222.